Remove timestamps from transcripts
Remove timestamps from video transcripts or any type of text file with ease. Simply copy & paste or upload your text files, then hit the Clean timestamps button to do the job.
Paste your text with timestamps here:
Or, choose a text file with timestamps:
---
What is TimeWipe?
TimeWipe is a specialized tool designed with writers and content creators in mind. It provides an easy way to remove various formats of time-stamps from text content. It is perfect for individuals handling transcripts or any text-format document that includes timestamps and wishes to declutter it.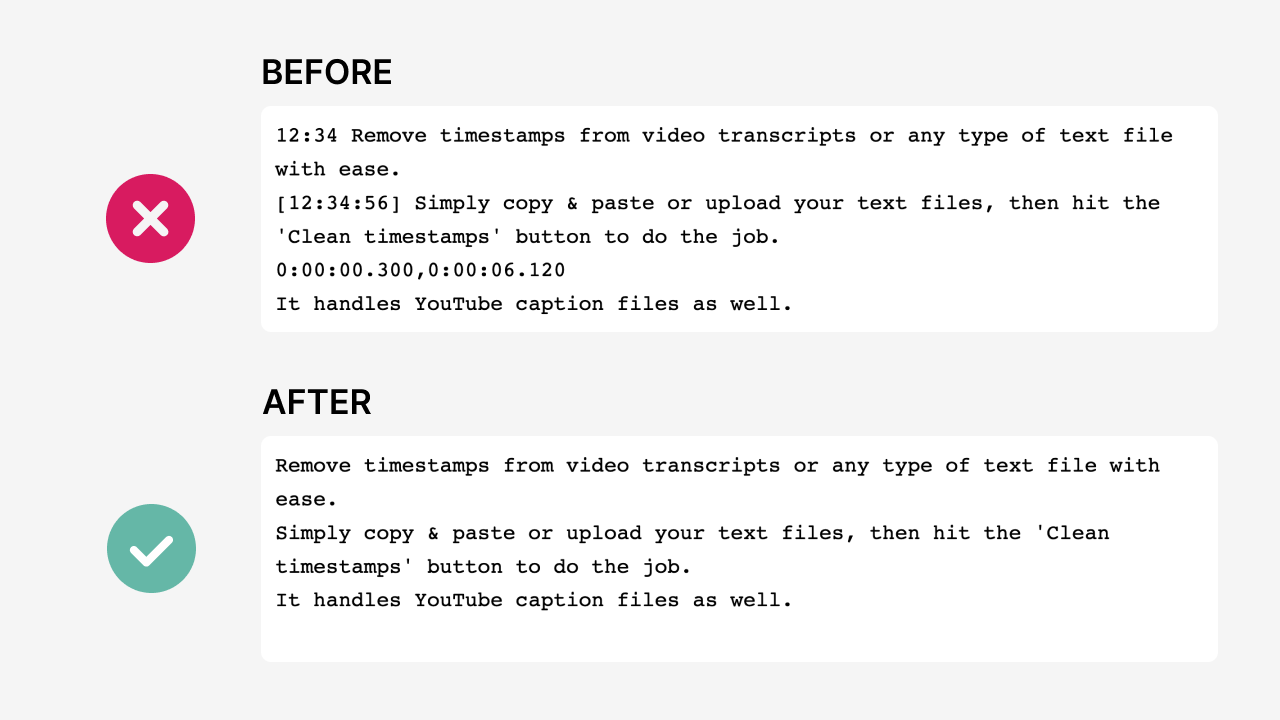 Whether you're dealing with a YouTube transcript filled with timestamps or a conversation log jumbled with undesired time notations, TimeWipe is here to make your experience hassle-free.
Key features of TimeWipe
Some of the key features of the tool are:
Cleans timestamp in various formats, including 00:00, [00:00], 00:00:00, [00:00:00], 0:00:00.000,0:00:00.000, and more.
Ability to deal with extra whitespace for a tidy final format.
No installation needed - accessible directly from your web browser.
User-friendly interface for non-tech savvy users.
Capable of handling large batches of text.
How to clean timestamps from transcripts?
Paste your text: Paste your original transcript or text content into TimeWipe's text box or upload your text file in .txt format.
Clean timestamps: Press the Clean timestamps button to wipe all timestamps.
Copy cleaned text: Press the Copy cleaned text button to copy the cleaned results - it's that simple!
Experience the ease of timestamp cleaning and effortlessly improve the readability of your transcript with TimeWipe!
Also check: